Products
DIRECT ROSE FR 100%,DIRECT RED 227
TECHNICAL DATA SHEET
TDS
Product Name: DIRECT ROSE FR (DIRECT RED 227)
Code: DRR227-FR-100 Countertype/Other nam:
Best Direct Light Rose FR( Oriental GiantDyes and Chemical Ind Corp )
Direct Rose FR( Indo Colchem Ltd )
Dyrite Light Rose FR ( Rite Industries Inc. )
Intralite Fast Rose LRK (Yorkshire Group pic)
Kayarus Light Rose FR (Nippon Kayak u Co Ltd)
Leadirect Fast Rose LRK ( Leadertech Colors Inc. )
MVdirect Light Rose FR ( MV Products Inc. )
Nippon Kagaku Direct Paper Pink BL ( Kaseihin Kogyo Kyokai )
Orcolightfast Rose FR ( Organic Dyestuffs Corp )
Solophenyl Red 7BE( Ciba Specialty Chemicals Inc )
Color index: Direct Red 227 CAS No.: 12222-51-4 EINECS: -
Molecular Formula:C60H46N16Na6O22S6 Molecular Weight:1673.43
Molecular structure:
Physical and Chemical properties: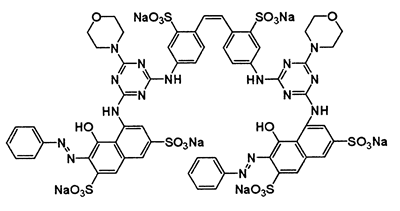 Standard

Acid Resistance

Alkali Resistance

Light Fastness

Soaping

Water

Fading

Stain

Fading

Stain

ISO

5

2-3

4-5

4-5

4

4

2-3
Use: Used for silk, acrylic, tannin mordant dyeing cotton dyeing, also can be used for leather, paper, hemp and glue directly printing and dyeing, the discharge printing. Can also be used in oil and fat, paint color, also can be used in the preparation of color which used in ink.
Packing:25kg bags,carton,drums