Products
DISPERSE RED GR 100%,DISPERSE RED 200
TECHNICAL DATA SHEET
TDS
Product Name: DISPERSE FLURESCENT RED G (DISPERSE RED 277)
Code: DR277-G-100 Countertype/Other name:
Kiscolon Red F-FG( Kyung-In Synthetic Corp )
Miketon Polyester Brilliant Red FGG ( Mitsui Toatsu Chemicals Ltd )
Orcocilacron Luminous Red G( Organic Dyestuffs Corp )
Palanil Luminous Red G( BASF Aktiengesellschaft )
Panacryl Brilliant Red G( James Robinson Ltd )
Color index:505720 CAS No.: 70294-19-8 EINECS: -
Molecular Formula: C25H21N3O3 Molecular Weight:397.47
Molecular structure: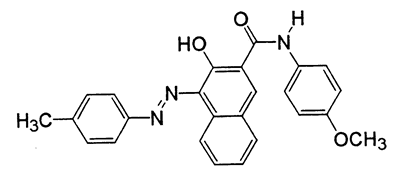 Physical and Chemical properties:
Standard

Ironing Fastness

Light Fastness

Persperation Fastness

Washing Fastness

Fading

Stain

Fading

Stain

Fading

Stain

ISO

5

4-5

5

4-5

5

4-5

4



Use: Used for silk, acrylic, tannin mordant dyeing cotton dyeing, also can be used for leather, paper, hemp and glue directly printing and dyeing, the discharge printing. Can also be used in oil and fat, paint color, also can be used in the preparation of color which used in ink.
Packing:25kg bags,carton,drums