Products
DISPERSE BLUE AR 200%,DISPERSE BLUE 281
TECHNICAL DATA SHEET
TDS
Product Name: DISPERSE BLUE AR (DISPERSE BLUE 281)
Code: DB281-AR-200 Countertype/Other name:
Dispersrite Navy AR ( Rite Industries Inc. )
Kiwalon Polyester Navy Blue GL ( Kaseihin Kogyo Kyokai)
Orcocilacron Navy Blue RA ( Organic Dyestuffs Corp )
Fatcosperse Navy AR-N Pdr. 100% ( C.H. Patrick Co. Inc. )
Serilene Navy Blue AR-LS ( Yorkshire Group pic )
Sodyecron Navy AR( Sodyeco Division Martin Marietta Chemicals )
Terenix Navy Blue FGRL( Jaysynth Dyechem Ltd )
Color index:.- CAS No.: 53950-33-7/22578-86-5/56548-64-2/67674-22-0 EINECS:-
Molecular Formula: - Molecular Weight:-
Molecular structure: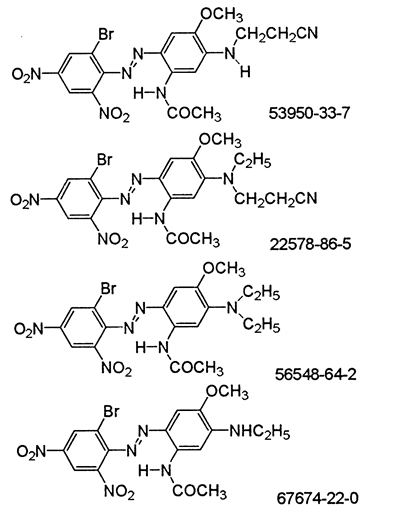 Physical and Chemical properties:
Standard

Ironing Fastness

Light Fastness

Persperation Fastness

Washing Fastness

Fading

Stain

Fading

Stain

Fading

Stain

AATCC

3

5

5

5

5

4-5

4-5



Use:Used for polyester dyeing, in polyester/cotton for bright blue, in man-made light is dark, also can be used for three of the fiber vinegar dyeing, resistance to permanent pressure repellent finishing, best solid color temperature of 220 ~ 230 ℃, and is suitable for high temperature and high pressure and hot to dissolve and dyeing method.
Packing:10,25kg bags with pallets/10,25kg drums